Cragun's Legacy Courses (Bobby's Legacy, Dutch Legacy, Reversible Nine)
Address
11000 Cragun's Drive
Brainerd MN 56401 United States
Teaser image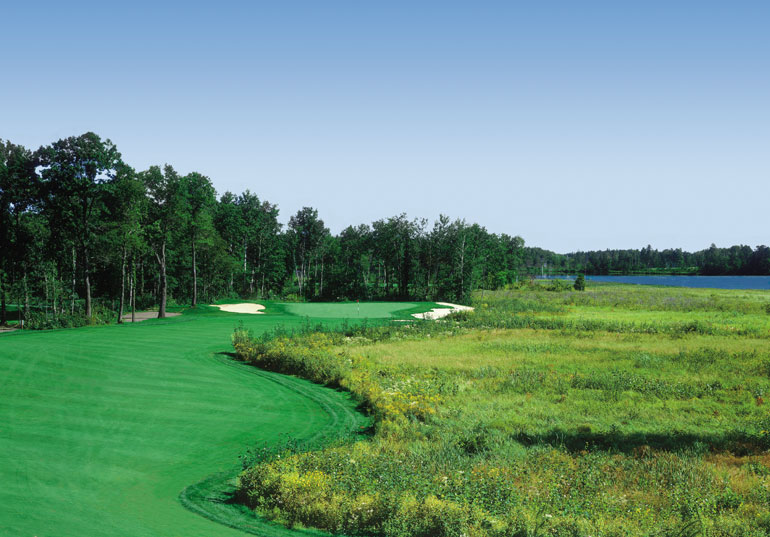 Located in the heart of the lake resort district near Brainerd, Minnesota, The Cragun's Legacy Courses stand as a tribute to innovative, environmentally responsible golf course design. Our design team created two distinct eighteen-hole experiences—the "Dutch Legacy" and "Bobby's Legacy"—the former of which stretches to 6,879 yards and a daunting slope rating of 149. But a minimum of four sets of tees makes these layouts versatile enough to host less experienced players. Three of the Legacy's nine-hole configurations consist of three par threes, three par fours, and three par fives, expressing course architect Robert Trent Jones, Jr.'s philosophy that "The truly great courses possess a balance which comes from melding holes of varying degrees of difficulty in pleasing order."
The courses are sensitively constructed around a 104-acre lake on a site that also encompasses five smaller lakes. More than a thousand feet of boardwalks attest to Robert Trent Jones II's ability to fit golf into sensitive settings with minimal impacts. Water, hardwood and pine forests, and wetlands guard many of the holes, forcing shots over or around hazards. Although fairway bunkers are sprinkled around the landing areas, most of the targets are spacious. The Legacy Courses open kindly, but classic risk/reward opportunities and heroic possibilities increase as the round progresses.
Highlights of this environmental award winner include the eighth hole on Bobby's Legacy, which features a calming waterfall, and the ninth hole on the same course, which plays 125 yards downhill to a peninsula green. Keep an eye out for deer, grouse, eagles, and beavers as you travel through the course.
The historic Cragun's Resort, established in the 1940s, is also home to the unique RTJ II-designed Legacy Walk, a reversible nine-hole layout that plays in different directions on alternate days. Consisting of eighteen tees and eleven greens, with holes that stretch from 55-225 yards, the course was designed to allow conference attendees to play a quick irons game. It's also perfect for kids, families, and beginners.