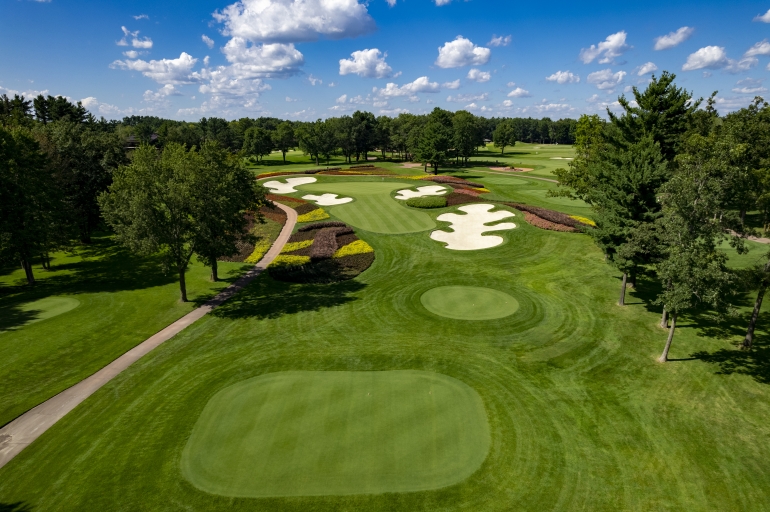 Author
'We will indulge it to the nth degree': The CEO had a decision to make about SentryWorld. Now it's hosting a U.S. Senior Open.
Wisconsin.golf
STEVENS POINT — SentryWorld was ahead of its time when it opened in 1982 as Wisconsin's first destination golf course. With its beautiful parkland setting and photogenic "Flower Hole," it was without equal in the state. Robert Trent Jones Jr., the course architect who has never been shy about talking up his work, called SentryWorld his Mona Lisa.
Thirty years later, though, the course was showing its age and no longer was the must-play public facility in Wisconsin. That distinction went to the Kohler Co. courses, Erin Hills and even a rediscovered Links Course at Lawsonia.
In 2012, Pete McPartland became CEO of Sentry Insurance, which owns SentryWorld. He had to make a decision: did Sentry even want a golf course?
"It was rather obvious (that SentryWorld had been neglected)," he said. "We had to figure out what we were going to do with it. Do we want to be in this business? I felt I needed to rationalize why we would be, because it's on my watch now."
McPartland concluded that, yes, Sentry Insurance needed a golf course.
"We're a big company in a small town," he said. "We recruit people from around the country to come live here. Our retirees choose to stay here. And this is a wonderful asset for the community and for our retirees and associates."
That decision, and McPartland's vision and leadership over the last decade, were the reasons dozens of media members were in Stevens Point on Monday for a preview of the 2023 U.S. Senior Open, which will be played at SentryWorld from June 29 through July 2.
"We wouldn't be here today," SentryWorld general manager Mike James said, "if it wouldn't be for that man."
Unlike almost all golf courses, SentryWorld does not need to turn a profit. The course does not exist to drive money to Sentry Insurance's bottom line. In fact, the company has spent many millions on a top-to-bottom renovation, a state-of-the-art SubAir System and drip-line irrigation, a clubhouse and restaurant second to none and a luxury boutique hotel that has gotten rave reviews.
The return on those millions? Smiles on customers' faces.
"I concluded that we're not doing this to be in the golf business," McPartland said. "We're doing this as an asset for the community and for ourselves. We're big enough and hopefully successful enough that the business model for us should be: do the right thing. Manage it the right way. Manage this golf course and the restaurants and the hotel for the customer experience only. And don't worry a whole lot about what the profit is at the end of the day.
"I don't know if literally anybody else can (run a golf course that way). So that's why I say it's kind of self-actualizing. We just want it to be the very best it can be and we want to spoil it to death. That's what this course is. We will indulge it to the nth degree. If people discover it, great. If not, at the minimum our employees, our retirees and the community will enjoy it."
True to its mission, SentryWorld spaces tee times at 20-minute intervals. The $275 green fee is all-inclusive; golfers pay that rate for exemplary service and a distraction-free experience, along with the option to indulge themselves without limit at on-course concession buildings that are loaded with food and beverage choices.
Sentry Insurance also became, in 2018, the title sponsor of the season-opening Sentry Tournament of Champions on the PGA Tour, now a designated event. The company is all-in on golf.
All of that got the attention of John Bodenhamer, chief championships officer for the United States Golf Association.
"Well, as it turned out, the USGA discovered us," McPartland said. "Anyone who pays attention to golf courses somehow picked up that these people here were doing some unusual things and they weren't running it the way you normally run a business. That kind of got picked up on. John was the one who came out and said, 'This is really unusual what you guys are doing. We'd love to have you host one of our smaller tournaments,' which was the (2019) U.S. Girls (Junior)."
The championship was an unmitigated success. The USGA was impressed by Sentry's management team and staff, and enthusiastic community support for an event that in bigger markets might have gotten lost. Hundreds of volunteers showed up unannounced at dawn on the Saturday morning of the championship to clean up debris after a violent windstorm. Veteran staffers of golf's governing body had never seen anything like it.
Soon after, the USGA offered SentryWorld the 43rd U.S. Senior Open, which is certain to be the biggest-ever sporting event in central Wisconsin.
When the best players in the world ages 50 and over arrive at the end of June, they will find an immaculate course that has been closed to the public since the end of the 2022 season. The fairways will be flawless, the greens as smooth as glass. Every blade of grass will be as perfect as Mother Nature will allow.
Members of the media got to play SentryWorld on Monday, but they had to hit every shot off small artificial mats, two to a cart, so as not to leave divots.
This is a relationship that will not end when the U.S. Senior Open pulls up stakes. Sentry Insurance has become the USGA's insurance provider. You can bet that more championship golf will make its way to Stevens Point. The region couldn't handle a U.S. Open or a U.S. Amateur, but just about everything else is on the table.
And it's all because McPartland saw SentryWorld not as a potential cash cow but as an asset for Sentry Insurance's associates, retirees and guests, and for the community. USGA championships are a bonus that he never considered back in 2012.
"One thing leads to another," McPartland said. "We have a certain style and a certain philosophy and it ends up compounding itself."