Chambers Bay Golf Course
Address
6320 Grandview Dr W
University Place WA 98467 United States
Teaser image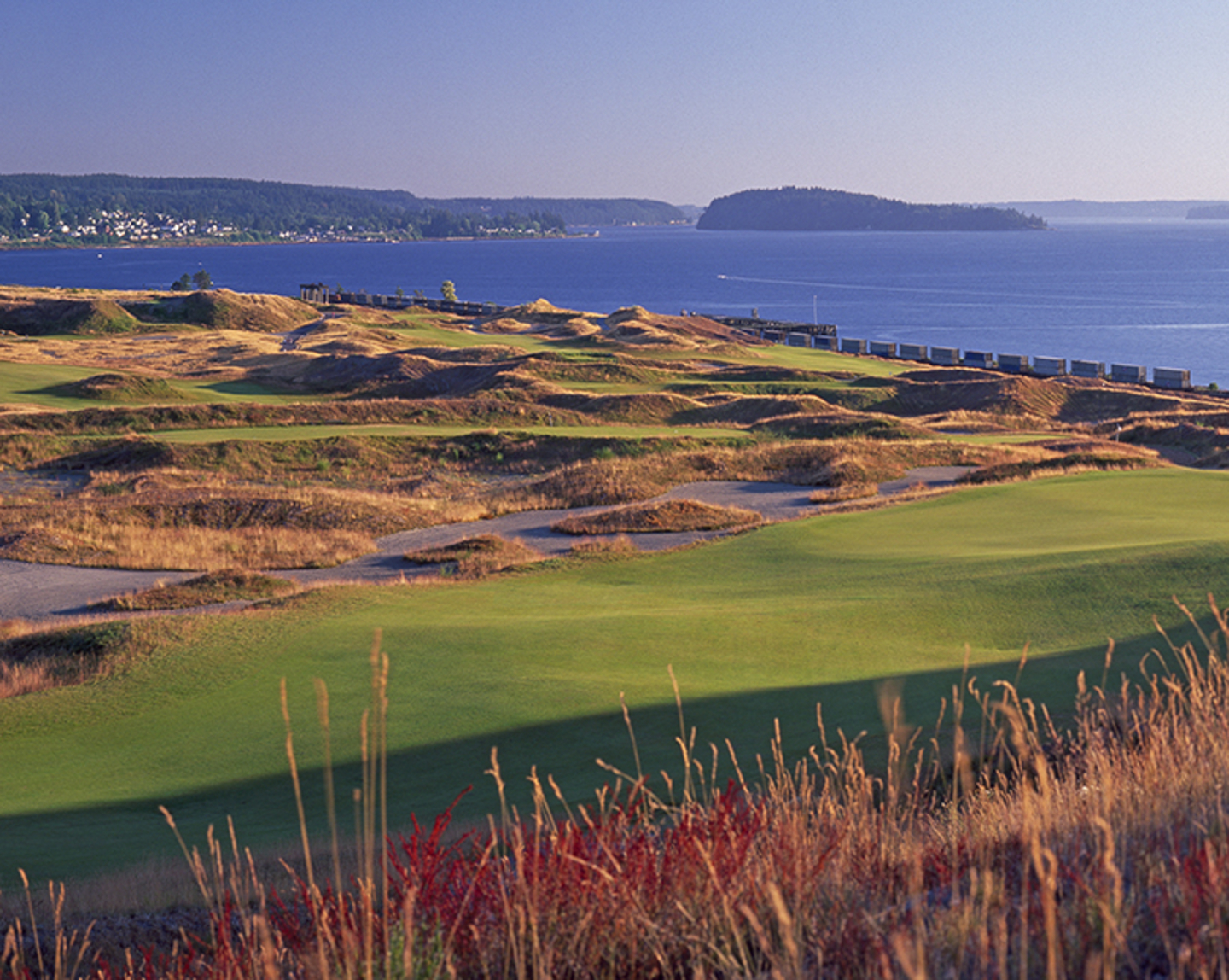 Located 35 minutes from Sea-Tac International Airport in University Place, Washington, Chambers Bay Golf Course is both a world-class golf links and the key element of an environmentally responsible public works project. Built on the former site of a sand and gravel mine, Chambers Bay anchors a 930-acre reclamation plan developed by Pierce County as an engine for economic development and funded by a local bond measure.

Robert Trent Jones II developed creative solutions to a number of design challenges presented by this project positioned on the edge of Puget Sound with the Olympic Mountains as a backdrop. The land set aside for the golf course was degraded after a century of industrial usage but contained bold landforms shaped by wind and weather. Our design team used these landforms as the scaffolding for the golf course design. We crafted a dramatic links landscape by clearing non-native vegetation and reworking the sand piles left from mining operations into massive dunes. RTJ II also transformed a series of sedimentation ponds into low-lying waste areas resembling those at classic links courses. We routed the golf holes between, over, and around these dramatic features and planted the entire course in fescue, the grass found on traditional British links. The 18 hole course was designed to accommodate major championships and can stretch to over 7,500 yards.

Much like the beloved links courses of Scotland and Ireland, Chambers Bay allows for creative shot making—particularly along the ground. Many holes invite players to choose among various routes from tee to green. Risk/reward opportunities abound, though wide fairways welcome all golfers to swing away. As Robert Trent Jones, Jr. says, "You can play more options at Chambers Bay than at the Chicago Futures Market."

Train tracks border the golf holes as they do at such beloved links courses as Prestwick and Royal Adelaide. And "ancient" ruins—from the site's mining era—are visible from a number of holes, as at several links courses in the British Isles. A public walking trail winds through the course, allowing passersby to form impromptu galleries, just as they do at St. Andrews. No housing mars the purity of the golf holes, and as Chambers Bay is a continuously turfed, walking-only course, no cart paths intrude upon the natural look. The award-winning golf course possesses the attributes of the world's greatest golf links. Chambers Bay played host to the 2010 US Amateur Championship, the 2015 US Open, the 2021 US Amateur Four-Ball Championship, and the 2022 US Women's Amateur Championship.
Chambers Bay is an authentic links experience that deserves to be on every golfer's bucket list. 
Show on most recent awards sidebar
On