Costa Palmas Golf Club
Address
East Cape, Los Cabos B.C.S. Mexico
Teaser image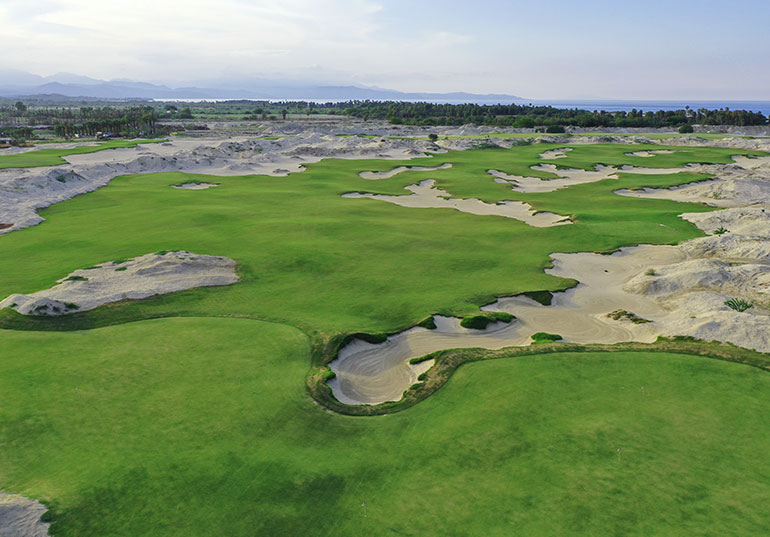 To use Robert Trent Jones Jr.'s own words, Costa Palmas—which sits along the East Cape of Los Cabos about 65 miles from Cabo San Lucas—is a "golf symphony composed of three movements and two transitions."
While his description parses the course's three different topographies, the musical analogy also speaks eloquently to the layout's rhythmic flow, harmonious melding with nature, and dramatic crescendo, as well as its ability to charm and entertain golfers of all skill levels.
This 18-hole layout at Costa Palmas is part of a 1,000-acre resort community featuring stunning views and an amazing practice facility. We really think this is a must for a great golf experience. 
Getting right into the course... The opening stretch is categorized as "Dunescape," six holes that play fast and firm through sandy, windswept dunes and feature open entrances to the greens along with seamless progressions from putting surface to teeing ground. Clever players will keep their shots below the wind on these holes, running shots in low, Scottish style.
Hole number 7 is the first of the two transitions, its dramatic natural arroyo marking the break between sand and trees. It's followed by holes 8-13, called "Upland" and showcasing dramatic, long-range views of the Sierra de la Laguna Mountains framed by wide fairways and tall trees. Although the dunes are now in the rear-view mirror, there's still plenty of sand in the form of strategically placed bunkers that put the premium on proper club selection and shotmaking prowess.
The par-three 14th hole changes the mood once again. Crossing the course's second arroyo and having negotiated the avariciously named "Hungry Eyes" bunkers introduces golfers to the "Marina" holes, which head back toward the Sea of Cortez. More intimate and embracing, the final four look out over the natural coves, harbors, and channels that make this region one of the world's finest sport-fishing destinations. The crowning hole majestically sweeps from left to right with the resort community's private marina fully in view along with a look at the spectacular Four Seasons Resort Los Cabos at Costa Palmas.
Like the most memorable symphonies, Costa Palmas is a spirited mix of motion and emotion, of tempo and temperament, and a treat to play again and again. Don't miss your chance to play this iconic Robert Trent Jones II golf course. 
Show on most recent awards sidebar
Off